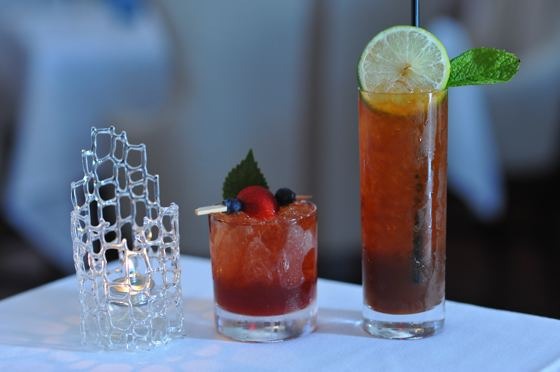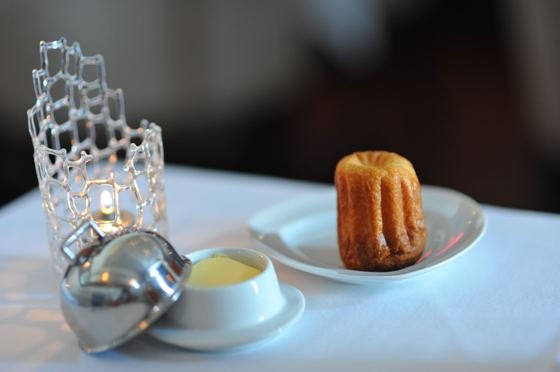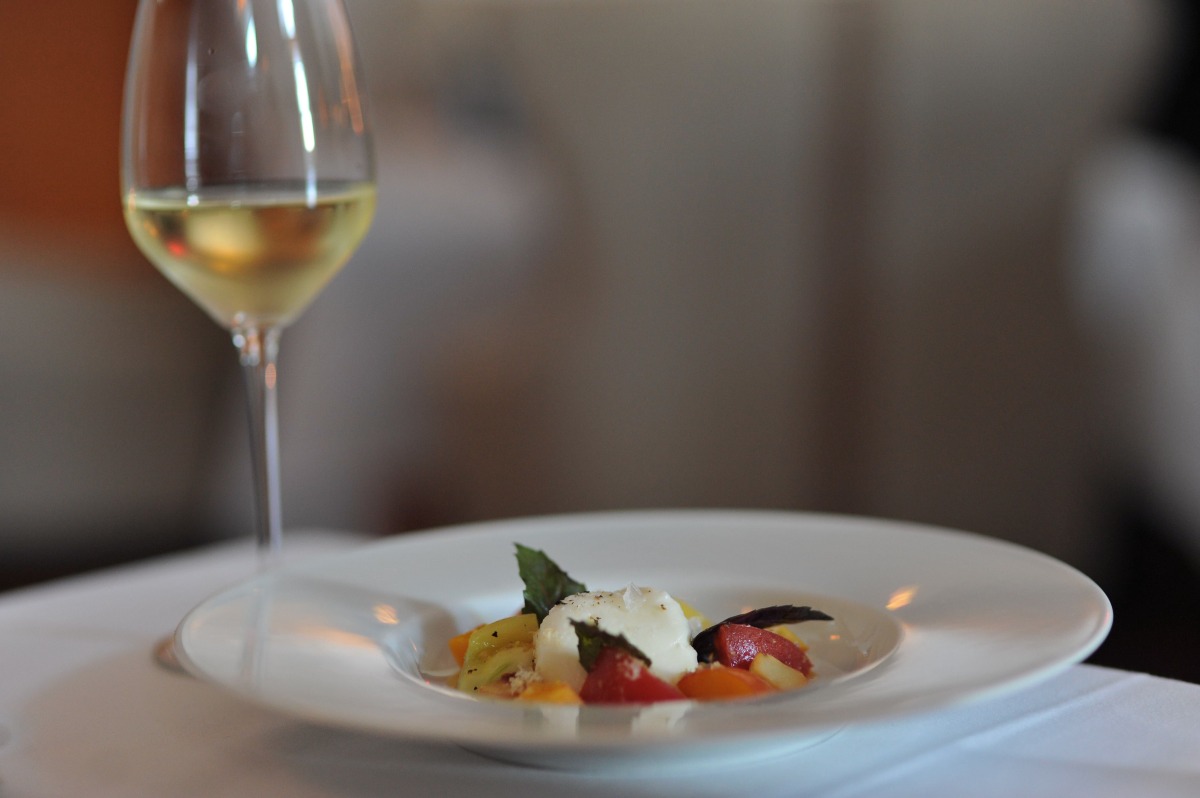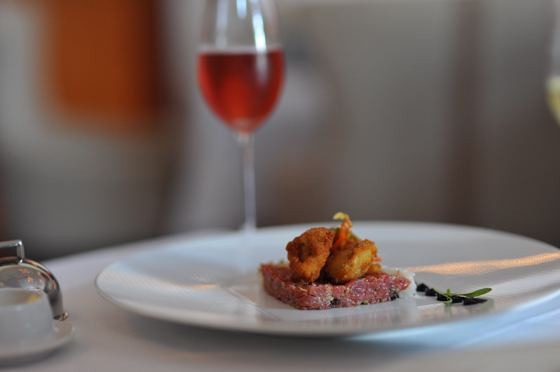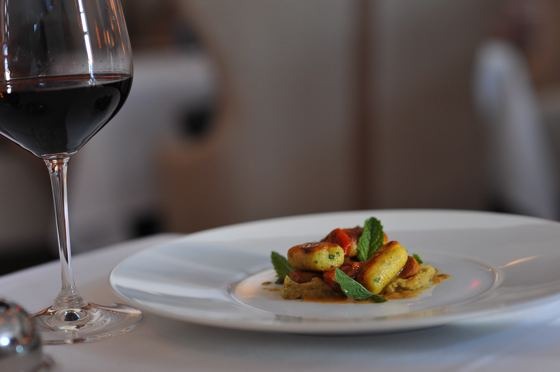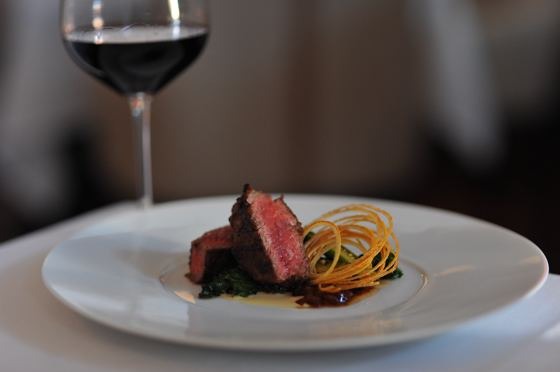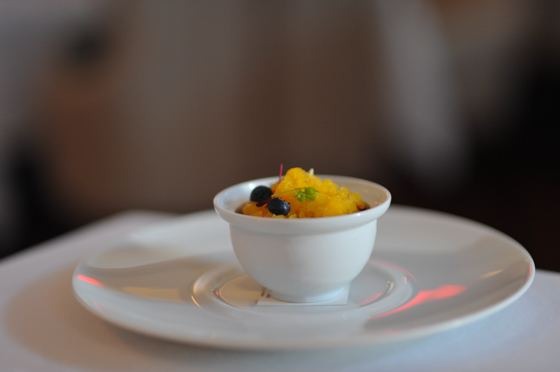 Way back in January before Food & Wine let me down with their initial Austin F&W fest, I won their dinner for two at Congress giveaway. I held on to this certificate for nearly 5 months with visions of the ultimate date night dancing in my head. Ian and I snuck away to Austin while Sophie was at camp. She would be disappointed to have missed our fun-filled day at Lick Ice Creams and Barton Springs Pool, but the wine pairings would have been wasted on her. Ian agreed to take only 3 shots of each course so as not to spoil the date night ambience.
I wasn't going to leave Congress without one of their craft cocktails. On the left is Ian's "Scarlet Lantern": a tequila based cocktail with a smoky hint of Rabarbaro Zucca. The tall glass is my "Dark and Amari" a delightfully bitter take on a Dark and Stormy with ginger beer, Cynar and Velvet Falernum. My future version of a well-stocked bar will include these obscure ingredients.
Ian's first course: Beef Tartare with kimchi, rice, and black bean paste. Topped with fried oysters. The superstar was the beef--melt in the mouth tender, perfectly seasoned. Second only to the oyster--a taste of the sea in a beautifully crispy package.
My first course: Heirloom tomato salad with burratta, peach/macadamia nut/opal basil/passionfruit. Loved the nod to the islands, and you can't go wrong with tomatoes and peaches in Texas this time of year. Note to self: always toast your macadamia nuts.
Ian's second course: tete de cochon with toasted barley and whiskey bacon marmalade served over a sweet corn puree. Ordered after the server glowingly recommended it--don't be put off by the title. For those of you who think bacon has jumped the shark, think again.
My second course: potato gnocchi with merguez sausage, fava bean, eggplant and mint pesto. This dish had a wonderful Mediterranean feel, and I think the wine pairing--a 2008 Paitin Nebbiolo d'Alba was my favorite of all.
Ian's third course: it was all meat all the time for Ian, charred ribeye loin with braised kale/garlic puree and BBQ onions. Every component of this dish was beautifully prepared, a testament to the power of simplicity.
My third course: Seared scallop with pistachio crust, red quinoa and cardamom yogurt/sour cherries. Complex combination of flavors that played well with each other.
Dessert:we shared the Blanc Manger: white chocolate base with blueberries and topped with a mandarin mint marigold ice. Mint marigold is an herb I am fond of--it is reminiscent of tarragon but super hardy and thrives in the Texas heat. Combined with mandarin it made for a stunning and refreshing finish to our dinner.
From start to finish Congress' attention to detail was evident in the care of staff, the immaculate decor, and above all, the food. Chef Bull came to say hello as we were finishing our meal--so nice to have the opportunity to thank him personally for a wonderful experience.
Located on the corner of Congress and 2nd St. just north of the river, Congress provides valet parking for $8, and you have a choice of a three or seven course meal with optional wine pairings. It is strolling distance to the Congress Street Bridge where if you are lucky you can watch the bat emergence on a fine summer evening.
Oh Texas, I will miss you.